by Dirk Schlaf (apostle of Kinskichrist, from Berlin)
My introduction of Obama at the Red Army Memorial in Treptower Park:
I hear there is some dispute over
where he gives his speech
. The Red Army Memorial in Treptow is better than the Brandenburg gate. I, of course, will be drinking a Berliner Pilsner in a leather jacket, my Godard sunglasses setting off my square jaw in the sunlight, on this occasion I will be smoking an unfiltered Gaulioses, even though I stopped smoking years ago.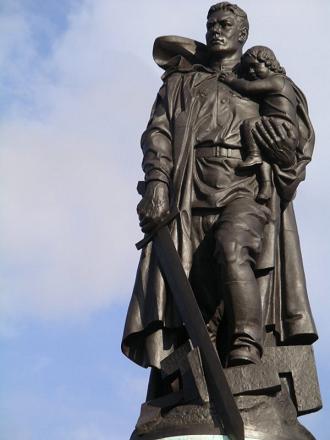 The crowd will have been warmed up by Music from Lee Perry, Faust, Softcell, My son Sven MC (fathered with Bibi Anderson) The Scorpions, Public Enemy and a Nico look-alike contest with Air providing the backing Musik.The neo-Mohawks will be banned from the park. Get a real one like Travis or the guy from the Exploited or give it up. As me, Flavor Flav (after performing new hit "Ain't gonna take his dick to Heimytown"), the Mayor of Berlin, Chancellor Merkel and Premier Medvedevdevedevdevevdevedevedevdevedev join hands with the new
Christsavior of the USA
surrounded by a coiteree of Dirkenkinder, I will step forward and salute the crowd with one raised fist and a perfectly executed scissor front snap kick, my black Doc Marten glistening in the Son. When the crowd is silent, I begin:
Esteemed guests, fellow Berliner und Berlinerin, workers, producers plagued by the parasites, the bloated vermin of the speculative class which is now dying of it's own decadence and corruption... Here on this day I step forward, here on the spot commemorating the defeat of Fascism with my strangely tumescent and omnipresent Bruder Obamoramorama and pledge a new US Amero alliance against neoliberalism, bad musik, bad haircuts, stupid polo shirts with the collars turned up, shaved headed Nosferatus, pretty girls who have shave headed Nosferatus as boyfriends, landlords and any combination of these pathologies. On this day Obama will pledge the entire resources of the US to the dawn of the Dirkenkinder and today we will in the setting Prussian sun have a fertility Fest. Obama will toungekiss both man and woman, Dirk will be the apotheosis of fertility God.
Death to neoliberalism and the Stepford Whores, Death to Prozac Musik and American bulletheaded lowbrowed culture. WAR IS A RACKET. Come Obama and greet Berlin but first we must strip to the waist (or fully if you like!) and full contact spar to knockout or submission. The secret service will not mind... just kidding-- I know you are weak and wouldn't stand a chance. Here is the mike...SPEAK... first you buy us all a beer, yes?
What do you think? Anyone have connections in his campaign???